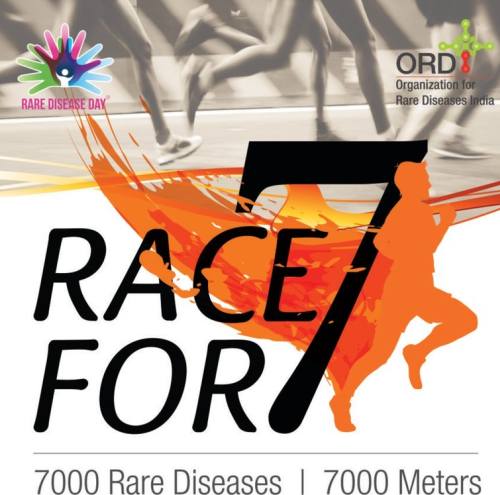 WASHINGTON, Feb. 6, 2018 /PRNewswire-USNewswire/ — On Sunday, Feb. 25, 2018, the Organization for Rare Diseases India (ORDI), is holding simultaneous walks or races in Bengaluru, Mumbai, and Washington, D.C.
Called Racefor7, the 7-kilometer walk highlights the 7,000 known rare diseases affecting over 350 million patients worldwide. In the US, these difficult-to-diagnose diseases affect approximately 30 million patients. An ORDI review article published by Cambridge University Press in 2014 estimated over 70 million people affected in India where a centralized health policy is still lacking. Engagement and participation of patients from similarly populous countries in global clinical research is historically low.
To honor International Rare Disease Day and millions of patients globally, ORDI is extending Racefor7 to Washington DC. The event is open to public, patients and diverse groups for registration at www.racefor7usa.com.
The D.C. event begins at 9:45 AM EST at the Sylvan Theater, Washington Monument, with the walk itself starting at 10:00 AM EST. Honorary chief guests include: William A. Gahl, M.D., Ph.D., Clinical Director of the National Human Genome Research Institute (NHGRI) and Cynthia Tifft, M.D., Ph.D., Deputy Clinical Director of NHGRI. The Undiagnosed Diseases Network (UDN), whose NIH site is run by Gahl and Tifft is part of NHGRI's commitment to patients with rare and undiagnosed diseases internationally. Resources like UDN speed-up patient diagnosis and offer hope for treatments.
"Most individuals with a rare disease have spent considerable time undiagnosed," says Gahl. "When they finally achieve a diagnosis they often enter a small community of advocates who nurture them, even if there is no cure. International Rare Disease Day is a time when people all over the earth can celebrate together the unique virtues we have in common as humans: compassion, understanding, empathy, and an indomitable spirit."
"We are thrilled to have long-time champions of rare diseases research flagging the Racefor7 this year. The community will be enriched and energized by participating in this event. We look forward to fostering collaborations with international stakeholders including patient groups, UDN, International Conference on Rare Diseases and Orphan Drugs and International Rare Diseases Research Consortium," says Harsha Rajasimha, M.S., Ph.D., Founder and Director of ORDI, who co-directs the Rare Diseases Systems Biology Research Initiative, together with Professor Ancha Baranova, at George Mason University, Fairfax, VA.
For partnership opportunities, contact event management at usa@ordindia.org or visit https://www.racefor7usa.com.
Media Contact: 540-239-0465
SOURCE Organization for Rare Diseases India, USA
Related Links: